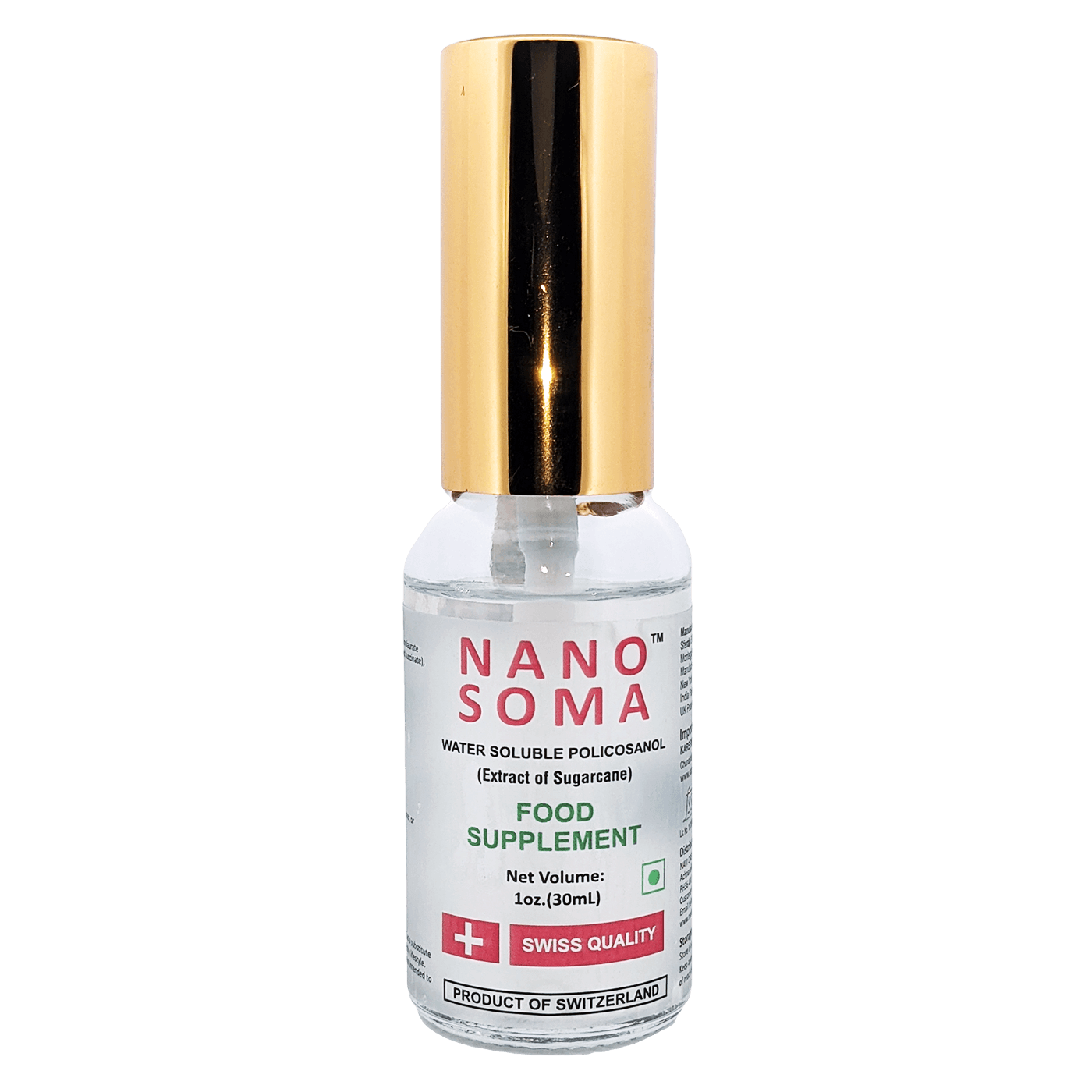 Nano Soma Nutritional Supplement
Full Description

One Supplement for the Whole Family

NANO SOMA (US Patent 8,722,093 Metadichol®) is a nutritional supplement - a nanoemulsion of policosanol formulated in glacial water. The secret to NANO SOMA is turning policosanol into a water-soluble nanoemulsion, enabling rapid absorption throughout the body.



NANO SOMA: The Elixir of Life
• Nano Soma binds to Vitamin D receptor sites to stimulate the immune system and inhibit a variety of disease processes
• Nano Soma enables the body to make Vitamin C endogenously without the need for Vitamin C supplements 
• Natural prophylactic with no known side effects
• Enhances wound healing and improves skin texture for long-term skin health
• Safe for Children, Adults & Animals

Nano Soma has no known side effects. Safe during pregnancy and whilst breastfeeding.



Independent research and clinical data has shown positive benefits from NANO SOMA for:

• Regulating over 2300 genes
• Enhancing Wound Healing (including diabetic wounds, cuts and burns)
• Repairing damaged organs, blood vessels and promoting good heart health
• Improving longevity and correcting underlying health conditions
• Reducing inflammation and pain
• Restoring proper immune functions
• Improving cognitive functioning, including following a stroke or from Parkinson's disease
• Proven anti-microbial agent against viruses, bacterial, fungi and yeasts
• Relieves itchy eyes and can be used topically for acute and chronic skin diseases such as Eczema, Psoriasis, Acne, Warts and Fungal Infections

---------------
Additional Resources:

A link to collections of testimonials from over the last couple of years
https://cdn.shopify.com/s/files/1/1345/0641/files/Nano_SomaTestimonials_2021.pdf

A published paper on Nano Soma as a natural remedy for viruses
https://cdn.shopify.com/s/files/1/1345/0641/files/metadichol_natures_own_remedy_against_COVID19_and_other_viruses.pdf


You can see a more in-depth scientific explanation of the product here:
​​https://researchoutreach.org/articles/metadichol-novel-nano-lipid-formulation

 and in-depth research and results here:
https://www.researchgate.net/profile/Palayakotai-Raghavan




Video interview

 

Jemma, co-founder of Na'vi Organics talks to Dr. Raghavan, creator of Nano Soma

Must see video to learn why NANO SOMA works, how it activates your body to address the underlying causes of disease and how it can help right now to improve your energy levels, clear toxins, heavy metals and stimulate DNA repair.
Ingredients

Glacial Water, Nano Policosanol 

(0.25%)

, Vitamin E, Sucrose Monolaurate, Potassium Sorbate, Citric Acid
Directions

Daily maintenance dose for adults: 5 sprays, once a day (approx 1 bottle / month)
• For children: 2 sprays, once a day


Loading Protocol for Optimal Support: For first time use, there is a 3 bottle protocol, recommended by NANO SOMA, (3 bottles / 1st month)

• First bottle: 5 sprays every 3-4 hours (total of 6 doses per day)

• Second bottle: 5 sprays every 6 hours (4 doses per day)

• Third bottle: 5 sprays, twice a day. 

Topical Application: Safe to spray on open wounds, cuts and skin complaints such as eczema, psorasis and fungal infections. 1 or 2 sprays, once or twice a day depending on severity / long-standing nature of issue.

For Pain : Spray topically onto any painful area. Use following injury or for chronic inflammation, arthritis or osteoporosis.

Eyes, Ears and Nose: Spray 1 spray, once a day in the eyes*, ears and nostrils to relieve symptoms of infection, inflammation, asthma, ear-ache and itchy/red eyes.
*Can sting initially when sprayed into the eyes.

First-Aid Box Essential: Use topically as needed. Wonderful to keep with you for emergencies. Use following accidents, injuries and in acute situations.