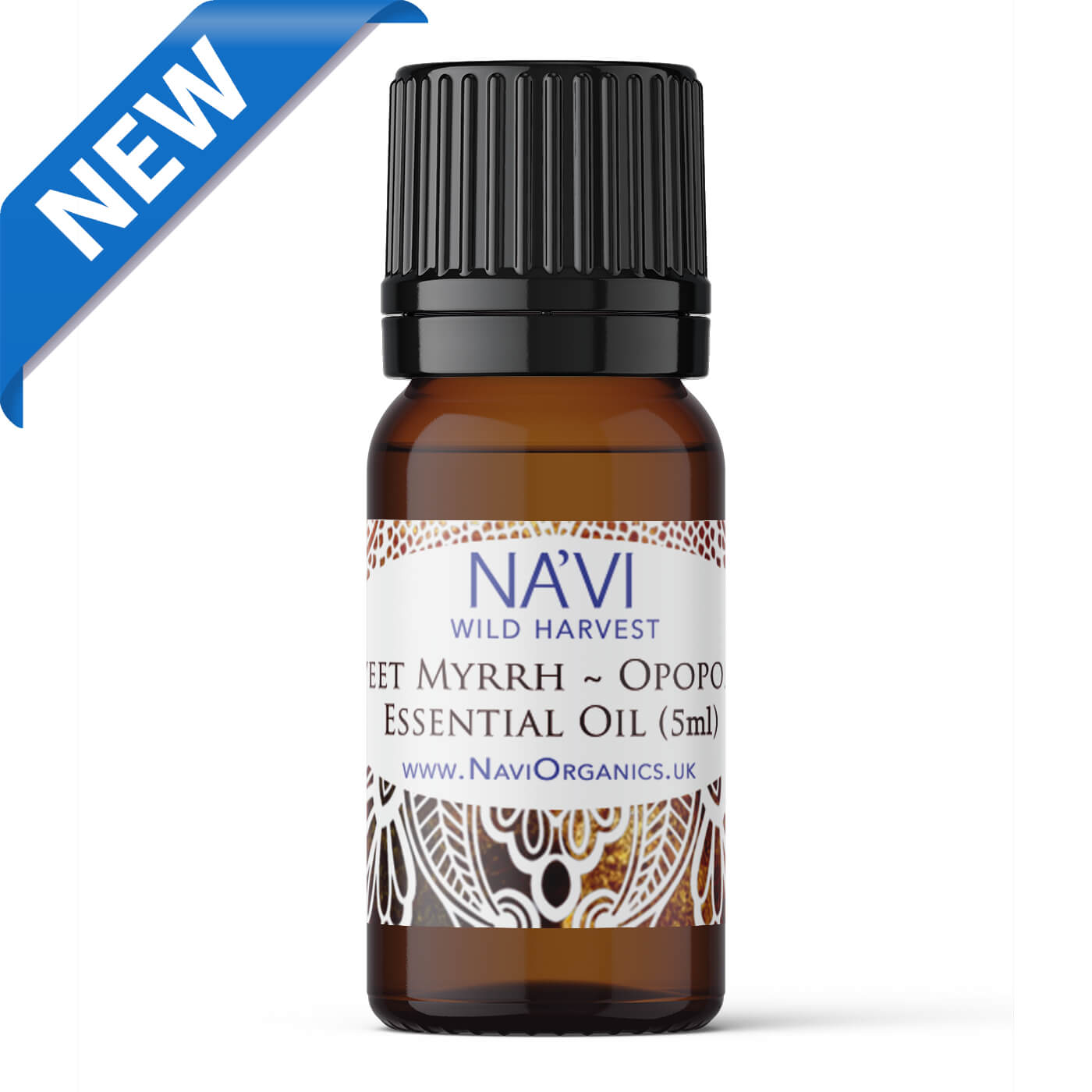 Opoponax Essential Oil - Wild Harvested Sweet Myrrh (5ml)
This wild harvested and high-quality undiluted Sweet Myrrh Opoponax essential oil is a rare find. It is extracted through steam distillation from the resin of the Commiphora glabrescens tree native to the wild desert areas of Kenya
Full Description

Known also as Sweet Myrrh Essential Oil, its properties are similar to those of Myrrh (C. myrrha), due to the close relationship between the two plant sources. The oil has a sweet and light fragrance, distinct from the stronger scent of traditional Myrrh.

The Opopanax tree grows tall in tropical regions and produces a natural oleogum resin in the space between its bark and trunk. The resin dries into reddish-yellow "tears," which contain essential oil, gum, and odourless resin. Through steam distillation, the essential oil is extracted, retaining its sweet, spicy, warm, fresh, and balsamic aroma. The resin component in the oil is responsible for its fixative properties.

Opopanax Essential Oil, like Frankincense and Myrrh, is renowned for its rejuvenating and skin-restoring properties. Its sweet and spicy balsamic aroma makes it a popular ingredient in natural and fine fragrances, as well as in diffusers, incense, and home fragrancing products. It is also a natural fixative, ideal for perfuming. Opopanax Essential Oil can help manage pain and inflammation, support the immune system, and relieve muscle spasms. Its anti-inflammatory and soothing properties make it an effective remedy for burns, rashes, and insect bites.

Opopanax Essential Oil has a calming effect on the mind and body, helping to relieve stress and anxiety. Its rich, earthy aroma with woody undertones promotes relaxation and peace, making it a valuable addition to aromatherapy and meditation practices. Additionally, it is said to have aphrodisiac properties and enhance sensual moods. This oil, belonging to the family of sacred scents, has been used for centuries for worship and purification. Its anti-inflammatory and soothing properties make it effective for managing pain, supporting a healthy immune system, and easing muscle spasms. With its many healing benefits, Opopanax Essential Oil is a valuable addition to natural and fine fragrancing, home fragrancing, and diffuser formulations.
Ingredients
Directions

Recommended Use:

Put a few drops of Palo Santo Essential Oil, diluted 3 to 1, on the chest at heart level, on the nose, on the side of the head (temples), on the back of the neck - 3 times a day - and on the soles of the feet at night before bedtime.

Can also be used to enhance meditation and relaxation